Website builder market today is so hot that companies in this niche are valued at $20B in market capital. Now the question is how others web hosting companies and domain registrars compete against a 20-billion-dollar company and win. Fortunately, all that the end customer wants is an easy-to-use website builder that can give them real value and superior performance. This is exactly what our white label website builder offers to our customers who are hosting companies and domain registrars.
Since 2001, SiteGalore's single minded focus has been how to empower web hosts & domain registrars to tap into this ever growing DIY website builder market. Our engineering team's mission has been to ensure that our white label website builder is far ahead of any other website builder in the market as that will give a huge advantage for you to compete and win in the market.
Google's Performance Benchmark
To prove that our white label website builder is truly far superior we have put some of the popular website builders to the ultimate Google test, and the results were mind blowing.
For this test, we created the exact website using Squarespace, Weebly, Wix and SiteGalore. The stunning website has beautiful fonts, stunning images, video, form, and much more.
With 54% of website traffic coming from mobile devices, Google gives a high priority for websites that load more quickly on mobile. Google's Pagespeed test score gives a clear indication of the performance of a website on mobile.
Here we see the exact same website built using Squarespace gets 37%, Weebly gets 24%, Wix gets 34%, and SiteGalore gets 99%..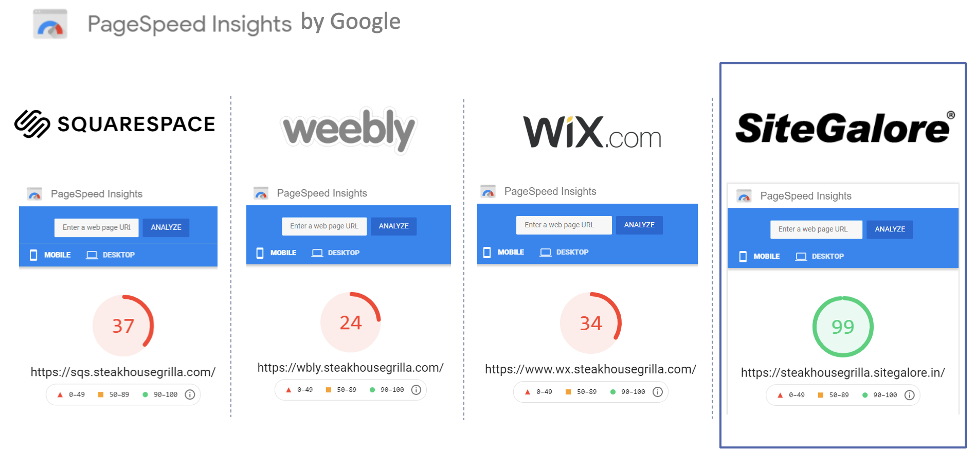 Google Pagespeed score directly reflects how fast a website loads on mobile. This can be seen clearly in the WebpageTest video, which is a reputed testing platform. Website built using SiteGalore loads in just 1.3 seconds while Wix takes 7 seconds, Squarespace takes 7.3 seconds, and Weebly takes 9.5 seconds. Remember, in a 4G connection, the latency is very high, so a website will load fast only if it follows best practices and guidelines.
Google benchmark says a website should load within 3 seconds on mobile. While SiteGalore surpassed Google's benchmark, other website builders were nowhere close.
Google says that just a 0.1-second improvement in mobile website speed increases the conversion rate by 8.4% for retail sites and 10.1% for travel sites. This means that SiteGalore websites are going to have a huge advantage as it loads in just 1.2 seconds while others take almost 10 seconds to load on a mobile. 
These 4 websites were also tested using Google's Lighthouse, which is the most comprehensive testing tool. Here we see Squarespace gets 33%, Weebly gets 24%, Wix gets 32%, and SiteGalore gets 99%.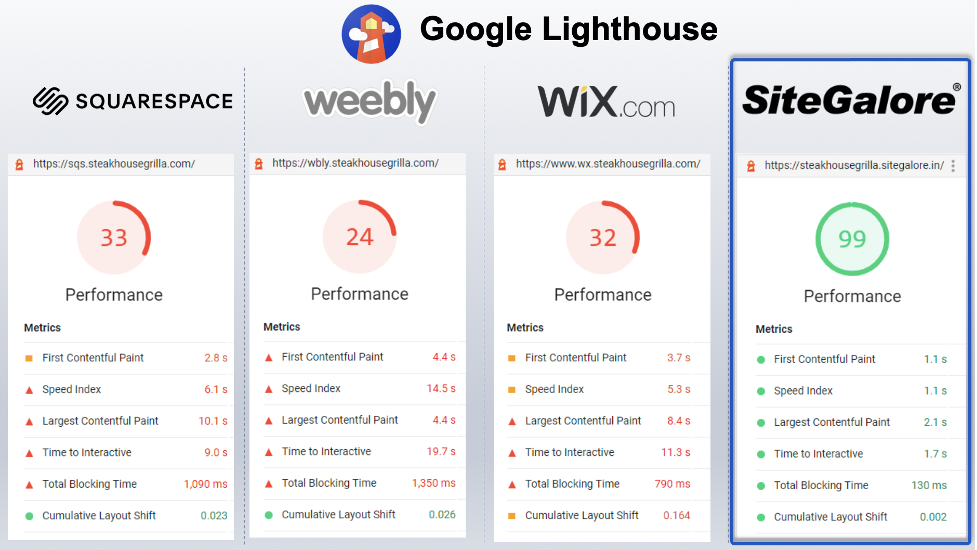 What makes the Google Lighthouse test even better is that it covers Performance, SEO, Best practices & PWA. We found SiteGalore gets a perfect score on all these crucial parameters. The Google Lighthouse test also proves that SiteGalore is the only website builder to offer Progressive Web App. This PWA feature ensures that the website can be installed as a mobile app that is of great value.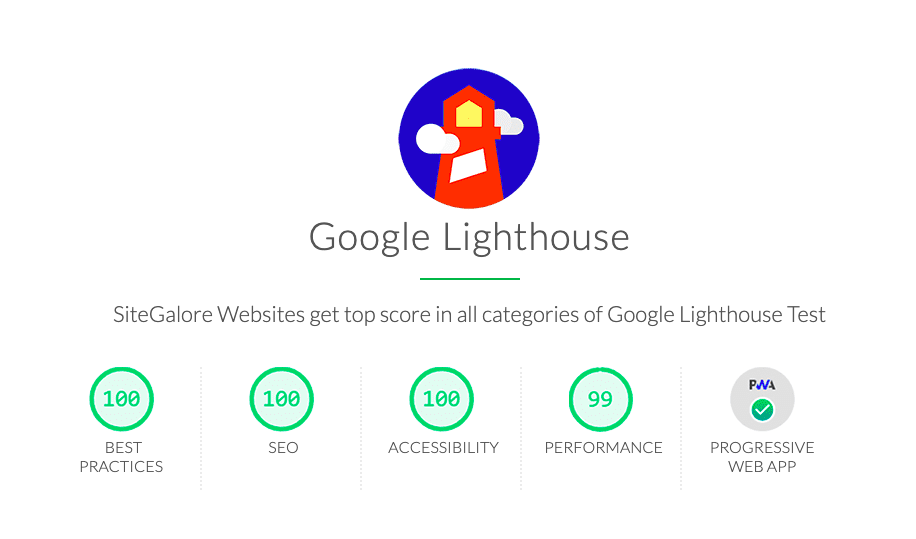 With absolutely no extra effort, anyone can create a truly stunning website that is guaranteed to get 95 to 100% in Google Pagespeed and Lighthouse test. SiteGalore is a game-changer as it is the only website builder to surpass Google's Ultimate test.
SiteGalore being a 100% white label website builder web hosts & domain registrars can now get a share of the 14 Billion dollar website builder market.